Little Einstein (STEAM) Summer Program
Cambridge Child Development Child Development Centre
presents
Little Einstein
A Summer Enrichment Program
April to May 2017 (40 sessions)
2-hour session
Let your Kids have a fun and interactive summer!
Let theme explore STEAM skills and concepts through play and discussion
A variety of skills and concepts are introduced every day!
For details and inquiries, visit or call a CAMBRIDGE centre near you
Introduction
The goal of this module is to assist Cambridge preschool teachers in focusing and refening the naturally inquisitive behaviors of three to five-year-olds on Science, Technology, Engineering, Arts, and Math (STEAM).
Children can develop a strong foundation for future learning by exploring STEAM skills and concepts through play and discussion, then applying those skills through more play.
it is important that you remember these for young children
Science encourages investigation and answering questions, often involving experimentation
Technology refers to simple tools like crayons and rulers as well as more complex ones like microscopes and computers
Engineering refers to recognizing problems and testing solutions
Arts encourage creativity and allow children to illustrate concepts they are learning
Math deals with number, but also patterns, shapes, organizational skills and much more
Julius, G. (2016, July 1). Understanding STEAM in Preschool Classrooms. Retrieved from https://www.primroseschools.com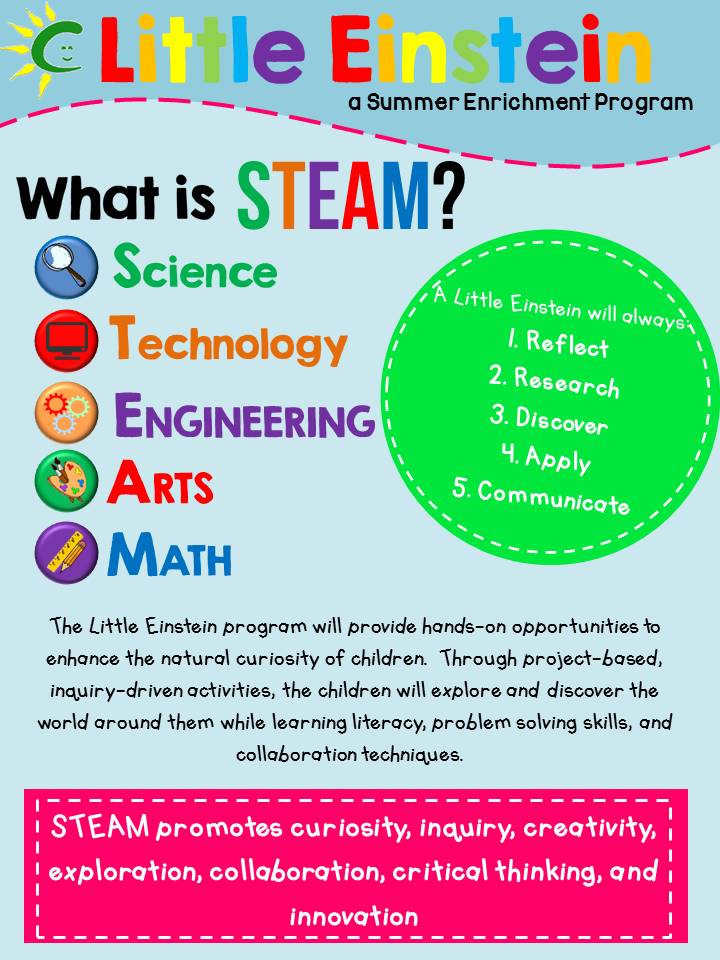 The Little Einstein program will provide hands-on opportunities to enhance the natural curiosity of children. Through project-based, inquiry-driven activities, the children will explore and discovery the world around them while learning literacy, problem solving skills, and collaboration techniques.
STEAM promotes curiosity, inquiry, creativity, exploration, collaboration, critical thinking, and innovation.