"Cambridge Congressional Preschool's expertise in teaching has put our minds at ease as parents of Alonzo Miguel Cabalona.
It is clear that our child's literacy and numeracy skills have developed considerably while under your care. Thank you for helping him to develop the skills and confidence that he will carry forward into the next school year.
With regards to timetable and schedule of the class with Cambridge Distance Learning Program, we found convenience and therefore maximized the potential of the child through enough time alloted for the students.
Your ISTEAM approach is a big help. Thank you for instilling this love of learning into our child. It has been such a pleasure watching him grow this year.
To the teachers of Senior Nursery Class, especially teacher Karizza Mae Manalad and the Centre Directress, teacher Marielle SG. Francisco, thank you for going above and beyond for our son and being such a caring and important part of his growth and progress. We are so grateful to have you as our child's teachers and for all your guidance and continued assistance – utmost patience, efficient teaching skills and confidence as well as your ability to motivate students to do their best.
Thank you very much! We look forward to a positive working relationship for the remainder of the school year."
—Mycah C.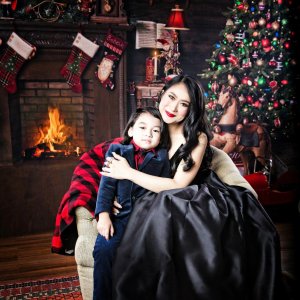 "Cambridge Congressional, a choice we could not have gone wrong. We saw how our daughter has been learning things that we wouldn't have thought could be educated by a child her age. All of this was done through fun activities and little to no pressure for our child.
When the pandemic started and kids were forced to stay home because schools are closed, we were worried and hesitant for the continuation of her studies. We knew that the possibility of an online class will be inevitable. We thought about how this can affect her education and development. We were fearful that the process will not be the same compared to an in-person class, the lack of participation, as well as the progress rate not being the same.
Thankfully, Cambridge Congressional was able to give us the confidence and sense of security for our daughter to feel as if she was with her classmates physically. Our daughter transitioned well from physical to online class. From her solo reading classes to her DLP (Distance Learning Program), the amount of time spent online is enough to keep her engaged and curious as well as enjoyment to want more.
The curriculum and daily activities which varied from day-to-day kept our daughter happy and satisfied. As a parent, I could not ask for more from an institute like Cambridge. Teachers are great with the kids despite the challenges of working with children virtually and having to adapt to a different learning tool. The teachers were able to contain the children's attention by engaging them to participate and still keep the atmosphere joyful with a good "classroom vibe" online. These are the kind of great qualities we want and need for our children's education during these challenging times.
Be it in a physical or virtual class, we believe with confidence that our daughter is in the right school and is in great hands amongst these wonderful teachers giving their best efforts for our children."
—Oman and Faye A.
"I have no qualms about Darcy getting her education online because after experiencing months of distance learning, I can see that she gets excited for class every single day.
She remembers all her lessons because of the way they are taught and the projects they do. She laughs and reacts like she's actually with her classmates and teacher when they sing, dance, and tell stories.
I'm very impressed with how the teachers were able to adapt to distance learning in a short period of time. Despite not being able to be with the kids physically, I feel that each child is still heard, listened to, and made to feel important.
Although distance learning might be added load for us parents, I'm still thankful I'm able to watch Darcy learn with enthusiasm. It's different from Before when I just ask her what she learned in school. Now I get to watch what she learns and how she learns :)"
—Cat S.
"When I heard about this DLP (Distance Learning Program) one of my major concern was the amount of time he would spend behind a screen because of computer based activities to comply with the program. But so far, we've been enjoying our daily activities, thanks to PBEM and ISTEAM. I've also been learning about new things as I go through the activities with my son as well. the sudden change in routine was a bit challenging for my son to get used to but Cambridge continued to keep everyone connected through our one on one, weekly class and even PTC via Zoom. They also provide learning packets and material that is delivered every month.
I must say Cambridge DLP has truly exceeded my expectations. The teachers are always so positive while conducting the lessons. They also continue to provide challenging activities that they can do at home. And even in the past month, they focus on every child's emotional needs. I am beyond grateful to allow my son to be part of Cambridge since Pre toddler days. Overall, they have done such a great job with this new way for our kids to learn. This is my honest testimonial to express the value of distance learning by teachers who know, appreciate and love students even from a distance."
—Tin M.
"I love the Cambridge curriculum because it is more of the progressive type. They have a themed approach in teaching the kids, with hands-on learning. Plus, they also have Chinese class.
The teachers are all nice, warm and well-equipped. They know how to handle the children well, and how to discipline them in a positive way. They teach children good values like sharing, taking turns, etc., which is very important to us as parents.
Also, I am happy to say that the school's partnership with the parents to support the child's total development gets two thumbs up from me. This way, we, as parents, are also guided.
There is no limit–there is no end to what you can learn to do. Cambridge is only the beginning, and I believe that this institution is the ideal training ground for our children for life."
—Jaimie C.