This pandemic is seriously getting into our daily decisions and attitudes. It has caused a lot of people to do a 360˚ shift in their careers and plans. Schools and more schools are now realizing the advantages of distance learning programs and we all have been constantly trying our best to cater to the needs and requirements of it. This is temporary but it does not mean that we disregard quality. A lot of great minds with generous hearts are working on it. From holding online meetings via different platforms, equipping the teachers on how to provide substantial activities, establishing good partnerships with parents and delivering kits and materials to our dear patrons. Behind every successful program are dedicated, efficient and dependable people. Let me tell you a story about some of these people.
While having a meeting this morning, a loud call got my attention. Someone was calling my name. It wasn't my husband and it definitely did not sound like my toddler so I stood up and checked. It was Kuya Joel, one of our school chauffeurs. A lot of thoughts came into my mind and these thoughts made me decide to write an article about some of our very own Cambridge frontliners, the very dedicated Cambridge chauffeurs and our school guards who then accepted a temporary role shift and became one of our "drivers", too.
I have a long list of good stories to share about our Cambridge drivers. Allow me to show off their skills and superpowers.
Willingness to be out in the wild. Facing this invisible virus plus the all year summer heat in our country, these people still say YES to bringing materials and other stuff to areas of different zip codes. They wear their superhero masks and shields to protect them from the monster's bite. Brave!!!
Great interpersonal powers. Dealing with tons of people with unpredictable moods is one of their top skills. They never know if you woke up on the other side of the bed or you forgot to put coffee granules into your coffeemaker which made you wait for 20 minutes for just hot water. Or maybe your internet is not working so well and the kids are already yelling for help as if there's a tsunami. Our Kuyas will always greet you "Magandang araw po! From Cambridge po ako, please receive the learning packet." with a big smile on their faces. They are as overjoyed as you. Courteous!!!
Organizational and Problem-Solving powers. What route to take to ensure that all deliverables will arrive at our children's homes on time? What to deliver first? What is the safest way to get to this place and at the same time get a good spot where they can eat lunch and rest if needed? Our Centre Directresses give out the necessary information to help them on that but they are the ones in the battlefield so they can quickly decide on changing a few plans. Many unknown variables can happen when you're on the road. You will need a sharp mind there, right? For extra points, they know how to save gas by driving efficiently. They are working independently, so they cannot always rely on a Directress or co-worker for help. Smart!!!
Stamina. Like any other delivery services, we have a diverse type of vehicles for deliveries, too. Kuya Erwin uses his bicycle, Kuya Rey, Kuya Noli, Kuya Roger and Kuya Harold use their motorcycles while Kuya Joel, Kuya Jimmy and Kuya Jun use the company cars. They can go to different locations in one day. Their muscles and abs can talk about their endurance and energy. Healthy!!!
Safe driving powers. Safety is always first. Deliverables were strategically prepared and all needs to be received complete, clean and intact. There was one time when our very enthusiastic Kuya Rey of Cambridge Imus decided to battle against the strong rain just to deliver the packets for that day then there came the flood and he failed to spot an open manhole. He drove directly into it which caused him injuries but when he called the Directress to report about it, he was so scared that he will get reprimanded or maybe asked to pay for the wet colored papers, worksheets and supplies. He was so worried about the deliverables. He still reported the next day. Strong!!!
Camera skills. They also take photos of those who will receive the packets. They politely ask the receiver if it's okay to have their picture taken while holding the package. After that, some Kuyas even use a photo editing app to put all the photos together in a grid before sending the report. Cool!!!
Time-is-not-the-enemy skills. They start very early and sometimes end late because their goal is to deliver more in a day so they can deliver more, again, the next day. That means saying hello to Mr. Sun and Mr. Moon. Awesome!!!
To all our Cambridge Kuyas who never get tired of carrying heavy boxes, driving here and there to deliver the learning packets from one place to another and facing the virus just to help us get through our everyday distance learning initiatives, we THANK YOU from the bottom of our hearts. Salute for your service!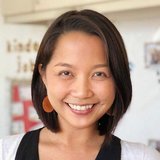 Jam Alvarez
Assistant Vice President CCLDI Yellow



Let's keep in touch!



Enrollment is All Year Round!