| ROUTINE | DESCRIPTION |
| --- | --- |
| Individualized Instruction | During this period, the students are given developmentally appropriate materials to work on that caters to the different areas of development such as Math, Language, Sensorial and Fine Motor. Cambridge Preschool has an open enrollment procedure which means students can enroll at any time of the year, this part of the routine will help our dear learners to adjust to what they have missed. |
| Circle Time | Circle time develops the Social and Language skills of the students through morning greetings, singing and dancing of nursery rhymes and songs. |
| Project Based Ecological Model Time/ Project Time | Students are given a specific theme/ topic every term. The students create a project based on their discussions, research, experiments and fieldwork during this period. |
| Play Time | Students are given the time to play to help develop their Gross Motor and Socialization skills |
| Snacks | During snack time, the students are encouraged to be independent as they set up their tables, serve food and drinks, eat on their own, and pack away after. |
| Grooming Time | During Grooming Time, the students are taught self help skills such as brushing their teeth, dressing and undressing, packing away, and folding clothes. |
| Story Time and Dismissal | During this period, the students are encouraged to read stories independently and as a group. This can help improve the students' Reading and Speaking skills. |
Open Future Doors Book Series:
Open Future Doors by Cambridge Philippines is a book series coming out this June 2018, these books target the literacy development of preschool students from ages 1.6-6 years old.
In the efforts to acquaint our students to real life images, Open Future Doors veers away from the typical children illustrated books.
With carefully leveled content, this project aims to develop every child's love of reading.
Our purpose is to scaffold each child through our comprehensive child care programme that involves:
Environment
A conducive, loving, stimulating, responsive and safe learning environment that will enable children to freely explore, experiment, create and learn.
Staff
Warm, caring, nurturing and qualified teachers and caregivers with positive attitudes of trust, respect and understanding of children.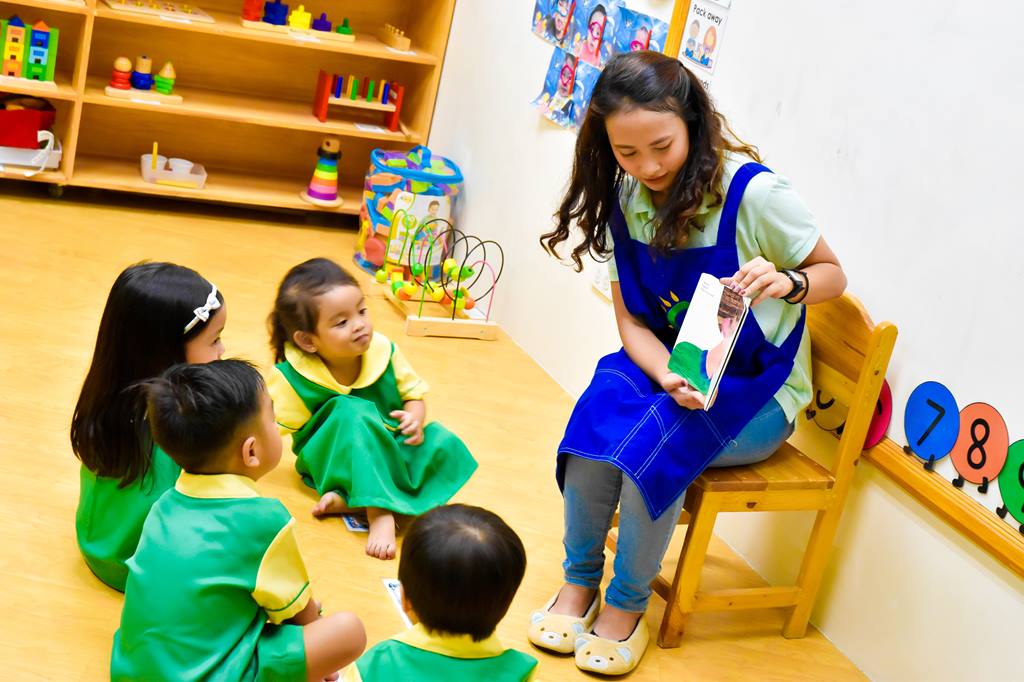 Programmes
Developmentally appropriate preschool programmes with concrete, interactive, learning experiences that take into account each child's individual needs, interests, abilities and culture.
The curriculum aims to be purposefully connected to real life experiences, beginning with and extending each child's existing knowledge through discovery, exporation, project based work and hands-on activities.
Founded on advanced educational research theories including multiple intelligences, ecological systems, Vygotskian framework and Montessori methods, our programmes promote an all-inclusive approach to children's education.
Family Involvement
Family involvement programmes that facilitate families and Cambridge Child Development Centres to be partners in their child's learning journey. Together we can nurture growing minds by igniting children's love for learning.